Our Spring Aveda Sale is HERE! Enjoy 25% off all Aveda now through May 21st! Want to take advantage of the sale but aren't quite sure what products will benefit you? In today's post, our stylist, Ryan (who is a graduate from the Aveda Arts & Sciences Institute), is sharing his top 5 favorite Aveda products. Keep scrolling to read!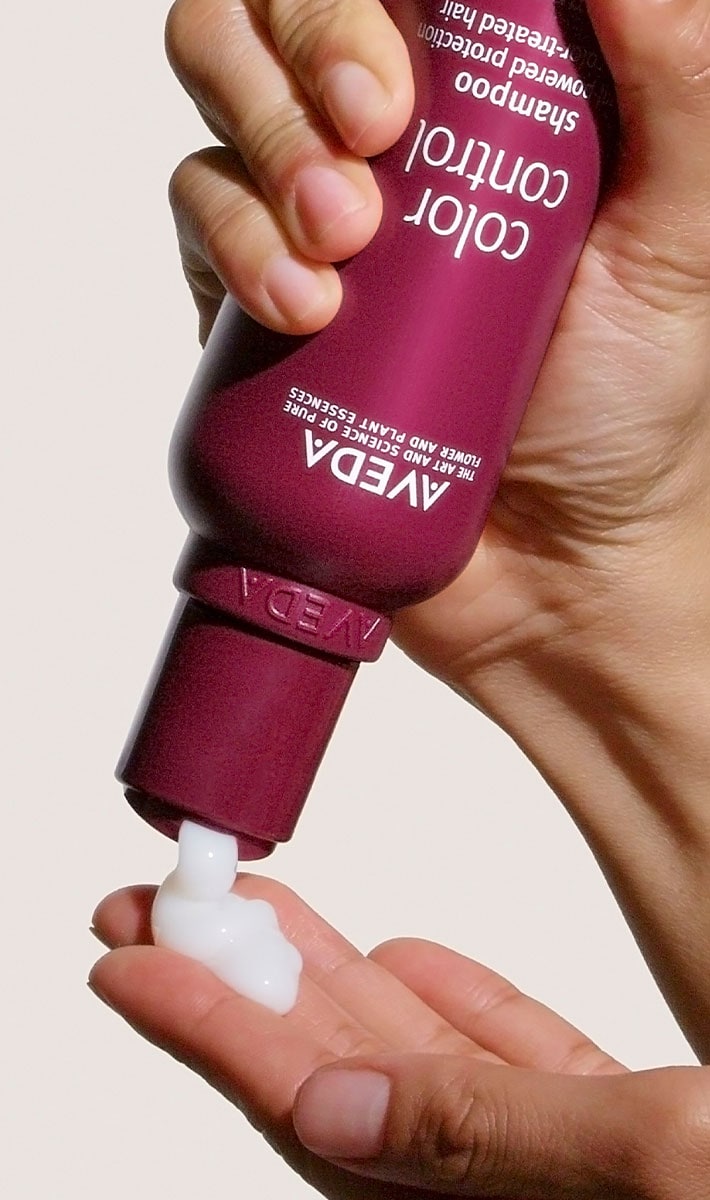 No. 5: Aveda Color Control Shampoo and Conditioner
Really, this is two products, but the results count as one! Anyone receiving a color service, be it a bright and wild vivid, a subtle and effortless balayage or a simple root touch up, the Color Control line is a necessity for maintaining the health and vibrancy of color treated hair. The Color Control line contains naturally derived "magnets" that neutralize the color dulling particles that occur when shampooing and dual-charged molecules that create a lightweight shield minimizing water's ability to wash out color.  In addition to these tasks, Color Control nourishes, smooths, and seals the cuticle leaving hair feeling bouncy, weightless, shiny and soft without the use of silicones.  Color control will leave your hair and shower smelling of fresh, flowery, and woodsy aroma containing osmanthus, certified organic orange, cypress and cedarwood.  For added protection, check out Aveda's most recent addition to the line coming out this month: The Color Control Leave in Light & Deep.

No. 4: Aveda Botanical Repair – Bond Building Styling Crème
This styling creme, like others in the Aveda Botanical Repair collection, creates and adds protein-free bonds throughout the multiple layers of the hair that provide protection from within the hair while leaving it feeling healthy and smooth. The creme offers a flexible hold from root to ends using a plant-based complex of corn and coconut. The creme has a long list of benefits: creates a healthy and tangle free look, prevents frizz for up to 72 hours (perfect for this upcoming season), and protects hair from thermal damage up to 450 F. Botanical Repair Bond Building Styling Crème not only protects the hair from most future damage, but it also does this all while strengthening the hair to prevent/reduce breaking during styling.  Love the signature botanical repair scent?  Add Botanical Repair Shampoo and Conditioner into your hair care routine for the ultimate scent experience.  Pro Tip* Styling creme is applied on wet/damp hair for best results.
No. 3: Aveda Nutriplenish Curl Gelée
It's all in the name! This product is one of the best I've found for curly and coily hair, but it truly shines when used with the complimentary products from the nutri plenish line. A curl strand is different from a strand without texture, its shape makes it more difficult for the oil from the scalp to reach its end.  This means that all curls crave the hydration found in the Aveda's Nutri Plenish line up. For the first time, I've found a product able to handle the curls of all my guests WITH or WITHOUT the hassle of a diffuser. While I wouldn't rule out diffusing, I have found that a generous amount of the Nutriplenish Curl Gelée on wet or damp (but mostly wet) hair, allowed to dry, will give my textured guests remarkably touchable and frizz free curls. Once applied, guests will utilize the appropriate brush or comb to create and ribbon the hair and allow it to dry without touching until the hair is about 80% dry.   This process is called "Gel Casting".  It allows you to create a coating or cast that is to be gently broken up by working your fingers and hands from the root and shaking or pulling apart the curls. Avoid the urge to touch the hair while it's drying, or you could run the risk of creating unwanted frizz. I am certain the Nutriplenish line
features one of my favorite Aveda aromas, which include cocoa, ginger, cardamom and other pure flower and plant essences. It's the rare combination of a flexible gel and the nourishing moisture of a lightweight leave-in conditioner. Gelee is perfect for any hair type or gender with either coarse or curly hair seeking a hydrating gel that fulfills their need for moisture and hold. Once you've experienced everything Gelee has to offer, it is impossible to go back to a regular gel!
No. 2 – Aveda Speed of Light Blow Dry Accelerator Spray
Time is something we all need more of. This is a particularly fantastic primer that has
been proven to reduce blow-drying time and reduce breakage from blow-drying by 93%! It's
low-pH formula can create a type of seal around the cuticle that allows the hair to separate like
a fiber to dry faster. The result is a beautiful, static-free style in half the time.

No. 1 – Brilliant Anti-Humectant Pomade
My favorite Aveda product! This is the product for those upcoming months when humidity is not your friend. Easy to use, emulsifying a small (and maybe even smaller than what you are thinking of) amount of this in your hands like lotion and work throughout dry, finished hair.  Start small and add more product if needed, this is not the type of product you want to overuse. Flyaways and frizz are a thing of the past with a satiny finish once you've mastered Anti Humectant's use. This is one I use on almost everyone, but it is especially great on those that walk outside and their hair reverts back to its previously unfinished state. Focused around the hairline, again, in small amounts, hair remains finished and gorgeous. A smell of green, jasmine, clove stem, germanium and black pepper essential oils make this product one that is always at my station and should be a part of everyone's regimen.